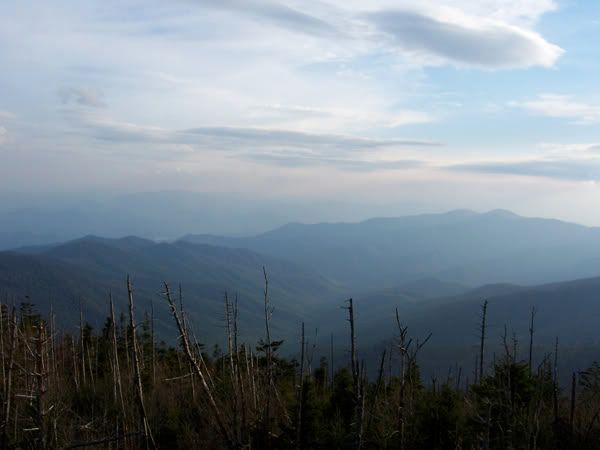 A couple of weekends ago Jonny(sarah's brother) and I decided to go backpacking in the smokies. The destination was Clingman's Dome @ 6500 feet, easy right. We started friday night after we got off work at about 8:30pm eastern time. We had a 5 mile hike the first night and figured on an hour of it in the dark. Well seeing that we started 2 hours later then expected it was 2 hours in the dark with headlamps. I swear a bear was going to jump out at us any moment. We finally got to the first campsite at about 11 pm and decided to make a fire and heat up some delicious goodness for dinner. Well we are real men so all we brought to start the fire was a flint/magnesium stick (Bear on man vs. wild makes it look so easy). After about 30 min and about 10 tries we made fire and had a great dinner and called it a night.
Day 2
This morning we got up about 8:30am had some cold ceral and headed up up for the summit. We had about 12 miles to the top and figured on being there by 4ish. Little did we know how hard it is to hike 12 miles with 35 pound packs uphill the entire time. Holy cow it was hard and extremely tiring, by the time we got to the top at about 7pm we were to tired to enjoy the view so we found a nice rock and took a nap. Oh and at the top they have a road that leads up for tourist to come and take a look the easy way so people we walking by us thinking "what are these two crazy mountain men thinking" it was pretty awesome. After a little nap we decided to descend and make camp for the night about a 2 mile hike. Well after another 2 hour hike in the dark we found the campsite and tried to make fire again (another 25 min task). Jonny was so tired he went straight to bed with out dinner. This day was truly one of the toughest physical and mentally I have ever had. We thought that we were alot tougher than we thought.
Day 3
Today we have a 12 mile hike back to the car which should take half the time it took yesterday because it is all down hill. We had to cross a stream/river about 11 times today, but with our waterproof boots it wasnt to bad until I fell in past my boots and soaked my socks, luckly I had a extra pair. After about 5 hours we made it back to the car and hit up the first fast food joint we saw for some good food. Wow what a weekend.
Oh yeah the 2 day we ran into a rattlesnake about 4 foot long thats was about 3 feet from us on the trail and had to wait 30 min for the it to move, and then day 3 saw another little snake but got a great picture of it.
Check out all the photo's
Day 2
Day 3